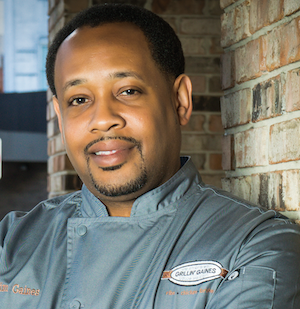 After walking away with a FIRST and THIRD place WIN in a big time BBQ Competition , on my first try, opened the door to future possibilites. -T.Gaines-
Tim was taught the art of slow roasting and smoking meats on his grandfathers homemade grill.
A  Florida native, Tim has honed his grilling skills over the years while growing up in Tallahassee.  This is where he developed his own signature style while staying true to his families Carolina roots.
Summertime was more than a break from school, it was hand crafted time given by my grandparents, teaching me what I now know as the fine art of smoking and grilling.
Over the years Tim has worked for many executive chefs but has always had a dream of sharing these passed down family grilling recipes that he preserved over the years.
This brings us to today…Grillin' Gaines Catering, has perfected his slow and low smoking technique on his custom made grill.  He's developed his own signature rubs and sauces and prepares a variety of grilled smoked beef, pork, poultry and seafood items.